GOOD FRIDAY, BETTER ART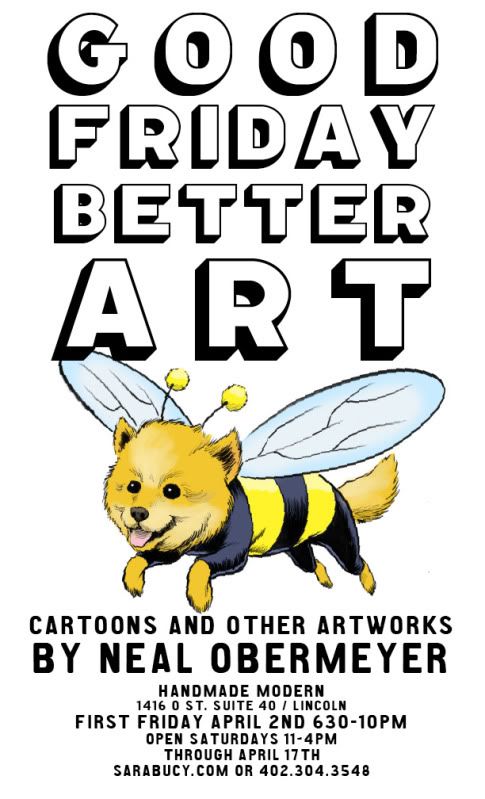 Friday, April 2 is the opening of GOOD FRIDAY, BETTER ART, my show at Handmade Modern in downtown Lincoln, Nebraska. The party starts at 6:30 p.m. and runs until 10:00 p.m. As First Friday falls on Good Friday, I'm attempting to incorporate the Easter weekend theme as much as possible.
Jesus cartoons
A number of Jesus cartoons from throughout the years will be part of the show. Among those, I am going to put the original Jesus basketball cartoon up for sale, and I plan on giving it a ridiculous price to see what happens. If I've had enough wine, maybe you can talk me down.
Resurrected cartoons
Some rejects, sentenced to death by editors, will rise again, given new life by their creator. I'm going to pick maybe 5-10 of my favorite rejected cartoons and draw them up all nice and finished with the old-school gray style.
24 Hour Comics
24 Hour Comics are a symbol of the resurrection — beginning in the morning, as day fades to evening, evening to night, and the night ends with another sunrise. I'm making a limited run of 64-page comic book collecting my 2008 and 2009 24 Hour Comics. That's like two resurrections.
Bigfoot riding Nessie
I haven't been able to come up with an Easter rationalization for this, but that's not going to stop me. I don't know if I'll have time to fully execute my Bigfoot / Nessie plans, but I promise there will be some representation.
Miscellaneous Prints
I'm also going to just make some prints of good cartoons that I think people might be interested in.
Feel free to RSVP on facebook and spread the word.